A Special on Sluggishness
Were Superman real and his abilities known, his early life would follow the track of Midnight Special. Chased by both government and a low key religious cult, super-powered 10-ish year old Alton (Jaesden Lieberher) finds himself on the run with urgency for reasons which remain cryptic.
Midnight Special plods through a tale of death and acceptance, injecting the power of belief as well. As layers peel back, answers lack clarity yet the film seems intent on retelling John Carpenter's Starman, albeit with a child. Tribute or clone, Midnight Special struggles to engage and leans heavily on its spacious pacing.
If there are interesting stories to be told in the story of Midnight Special, they're not in this film. People turn violent over a cause barely understood, lost in the meandering script and few rounds of visual effects. Its government and religious perspective sits ailing, waiting for better contextual power. Neither happens – both are used as plot gestation before sending Midnight Special out on the meager strength of its family saga.
Grinding at two hours, the filler becomes superficial.
Michael Shannon and Kirsten Dunst match the quiet tonality as Alton's parents, strangling the film with listless energy. Nigh useless, they exist as Alton's transportation, as confused by their son's power as those who give chase. Bit parts crumble around Alton whose own fantastic abilities remain vague, still buried in the thoughts of writer/director Jeff Nichols.
If there's a takeaway, it comes in the closing chapter as Midnight Special appears to have found it resolution – one which remains frustratingly enigmatic. Alton discovers his place and therein sits the film's mournful commentary on belonging and being able to let go. There's power in this singular moment which needs to harness little or nothing of the prior two hours to work. Cut away as a short film, Midnight Special's conclusion works. Grinding at two hours, the filler becomes superficial.
Midway through, Midnight Special sets off a series of explosions in a kinetic action scene, one which draws further parallel to Superman. Man of Steel saw the superhero snatching a satellite due to its surveillance capabilities. Alton takes after his fictional forefather, using his abilities to do the same, robbing the NSA of their technological sight. It's one moment – of few – which give Midnight Special promise. Afterward, it's back to the slog.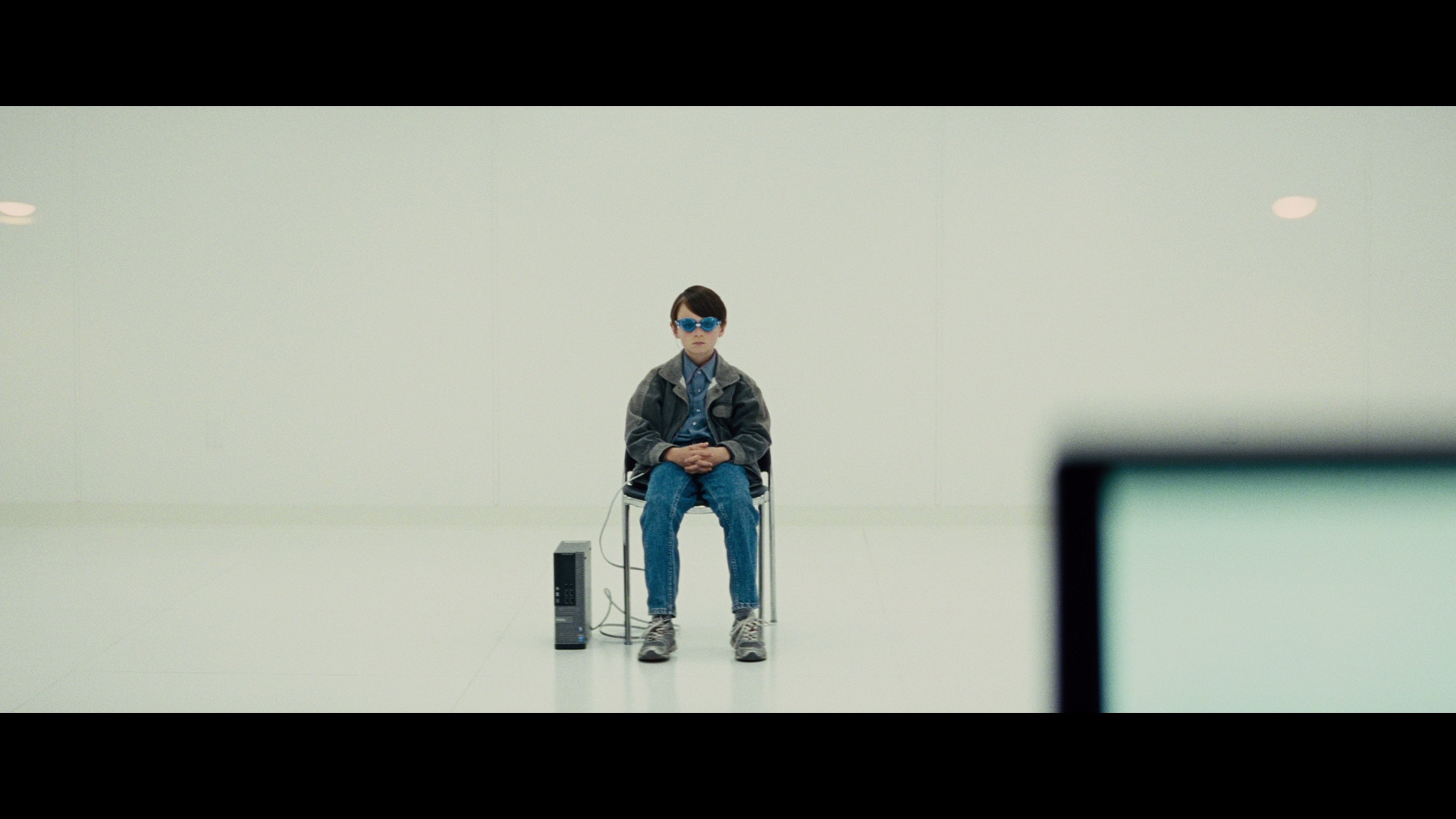 Video
A vintage appearance greets this film-based production. Grain structure resolves fairly, with some middling qualities to the medium shots, Warner's typical look. As such, resolution can feel lacking and image clarity reduced. Fine detail does escape, including a number of superlative exteriors and close-ups. There's visual energy to be found, even if it's less frequent.
Of concern is the overall dimness. Midnight Special hosts the look of a movie shot in natural light, carrying over into nearly invisible nighttime cinematography. Michael Shannon disappears into the shadows partway through. Were it not for a handful of day-for-night shots, the entire sequence would slink into the dark unseen.
Partly for the sake of narrative, most scenes succumb to low light. Contrast isn't allowed – Alton cannot be in sunlight. Leaning then on black levels, Midnight Special treats shadows well. Image density, even without a top end, holds together.
Colors swerve between typical blues and oranges depending on the scene. Flesh tones follow. Primaries are reduced and dry, situating Midnight Special with mild Earth tones for much of its runtime.
Audio
An unexpected kick comes from the LFE. Both the score and action scenes hit full force in the subwoofer, creating substantial weight. When Alton's powers activate, the rumble can challenge any top tier Blu-ray. A sequence of falling debris nears pure spectacle, engaging the rears as well as the sub. Pieces of a satellite fall to Earth, spreading across the soundfield as characters come under bombardment. There are no subtle uses of the subwoofer, odd considering the overall tone.
Given the level of travel involved in the story, numerous scenes trap the characters in a car where ambiance rises to match the visuals. Helicopters create motion as they pass above, while little else stretches the mix. Locations are purposefully silent, led by dialog alone.
Extras
Origins collects five featurettes on the characters, in some cases giving minor exposition not offered in the main film. However, they're routine otherwise. The Unseen World explores some of the deeper contextual meanings, from the view of Jeff Nichols. Totaled together, that's 20-minutes of content.
Full disclosure: This Blu-ray was provided to us for review. This has not affected the editorial process. For information on how we handle review material, please visit our about us page to learn more.
Midnight Special

Video

Audio

Extras
Summary
Writer/director Jeff Nichols' searches for deeper meaning but his work comes up wanting and overly slow.
Click on the images below for full resolution screen captures taken directly from the Blu-ray. Images have not been altered in any way during the process. Patreon supporters can view additional images.
---