Wind surfing
Toting around a script with TV-movie dialog, Into the Storm's actors spend much of the time in piercingly dull family drama or pointing toward windy clouds. In terms of found footage, the entire concept shuts down as the third act enters an action zone, and by that point, this treacherous piece of entertainment becomes harmfully stupid. Nice effects though. [xrr rating=2/5 label=Movie]
Read our Into the Storm theatrical review for more thoughts.
From the lens of almost all major cameras currently in use throughout the studio system (only Sony's CineAlta is missing), Into the Storm dumps a bland, intentionally gray visual space onto screens. Resolution is often improbably high for consumer level equipment even if the fidelity is a touch lacking.
Much of the film is done in handheld form with jumpy cinematography meant to instill a sense of realism. It's all too obvious a pro behind most of it; this framing would be remarkable for a high school teen and footage is frequently clean. There is little impediment to overall clarity. Certain cameras, especially the smaller GoPros, are given a light draping of noise for effect. This is appears to be more of a controlled post-production feature considering how consistent it appears.
This film often lacks a broad color palette, focusing tightly on the swarm of grays which match the skyline. Outside of the pre-storm activity and a skyward flame, there is little intensity given to primaries.
Over to Blu-ray, Warner's encoding work is generally unseen. Compression, even when amongst the chaos of flying debris, holds images stable. Above mentioned noise does not feel accentuated, nor do any images collapse in a flurry of artifacts. Given some of Warner's recent (lesser) efforts, Into the Storm is competent work. [xrr rating=4/5 label=Video]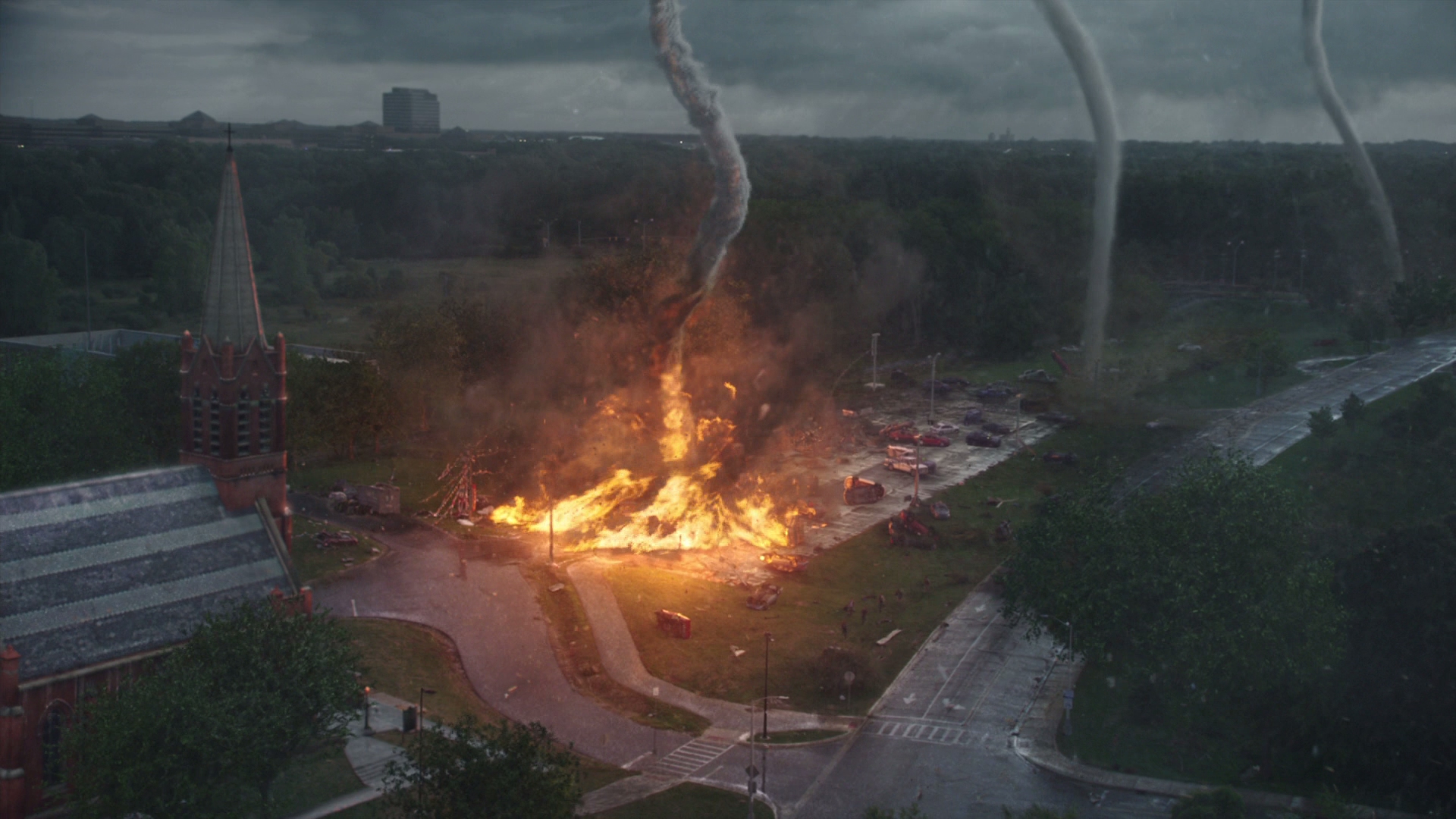 Studio logos begin to growl in the low-end as they pass by, setting up a tremendous dose of LFE. Into the Storm has minimal concern for proper dynamic range and would rather blow up with aggressive, punishing bass. Wind speeds are wholly convincing, digging in low to purposefully overwhelm. Scale cannot be missed.
The sheer plethora of aurally engaging action keeps drowning the soundfield in water, whether wind swept rain or the trickle from above as characters are trapped underground. Into the Storm uses the idea of rolling thunder literally, sweeping it from the front and throwing it toward the back in an exquisite use of motion. Action scenes, with all of their debris, keep energy flowing outside of nature's effects. Thunderstorms and the resulting tornadoes have a voice in this movie. They're not afraid to yell. [xrr rating=5/5 label=Audio]
Miniscule extras bring in known storm chaser Reed Timmer to discuss the reality of the situations depicted, beginning with Tornado Files. Timmer takes over to name the twisters used in the movie, dish general knowledge, and more. Titus looks into the design of the in-movie vehicle, making comparisons to Timmer's own Dominator. The last bit, Fake Storms, Real Conditions, peers into the unrelenting rain and wind created on set much to the discomfort of the actors. Total time for everything? Around 25-minutes. [xrr rating=2/5 label=Extras]
Full disclosure: This Blu-ray was provided to us for review. This has not affected the editorial process. For more information on how we handle review material, please visit our about us page to learn more.
[display_rating_form]

[display_rating_result]
Click on the images below for full resolution screen captures taken directly from the Blu-ray. Images have not been altered in any way during the process.
---