Serial killer Joe Carroll is back with a vengeance as he leads a cult of crazies against agent Ryan Hardy
To no one's surprise, serial killer and lunatic Joe Carroll (James Purefoy) is back in this crazy second season of The Following. One of the most intense, disturbing shows on network television, The Following revels in its atmosphere of unrepentant psychopaths and amoral murderers. Constructed around tortured FBI agent Ryan Hardy (Kevin Bacon), the world's foremost expert on Joe Carroll, season two ups the ante after an uneven first season. Playing with themes of religious devotion and sacrificial cults, a new family of serial killers want to be led by Joe Carroll as their master. It is a vicious thrill-ride from beginning to end, packed with twists and turns no one will see coming.
A show of this nature heavily relies on the surprises found in its plot, so staying away from spoilers is an imperative. The season opens directly from last season's shocking end, as Ryan Hardy and Claire Matthews (Natalie Zea) are viciously wounded by one of Joe's remaining followers in Ryan's own apartment. Joe's ex-wife Claire dies in the opening minutes of this season, sending Ryan into a tailspin and towards the bottle. Ryan was hoping to start a life with Claire and that is now permanently ruined. The show then jumps one year in time, as a new group of serial killers promise the resurrection of Joe Carroll. The infamous Joe Carroll is presumed dead by the FBI, having died in that explosion at the end of season one.
The Following at its essence is really the battle between Ryan Hardy and Joe Carroll, as opposing forces in love with the same woman, Claire. The show would have taken a huge hit if James Purefoy wasn't brought back for another season, so it isn't a shock when Joe shows up alive very early in this second season. He still has the deliciously evil Emma Hill at his beckon call, played to perfection by Valorie Curry. Emma is still willing to do the grunt work whenever Joe asks her for something. Curry's performance has been quite remarkable in the role, she's turned a character that wasn't give much thought by the producers into a starring role and an integral part of the series.
Season two sees the further character development of FBI agent Mike Weston (Shawn Ashmore). Ryan's closest friend sees the stakes get higher than they have ever personally been, pushing him beyond the point of breaking. Weston is put into some tough ethical dilemmas that threaten to stain him forever with his actions. New character Lily Gray, a rich art dealer, brings an entirely different element to The Following. Played with a kind of smarmy elegance by Connie Nielsen, she gets wrapped up in the war between Ryan and Joe when she is attacked on the NYC subway. Could she be the romantic replacement for Claire in Ryan's life?
There is so much going on in the fifteen episodes of season two, I haven't even skimmed the surface. The Following chews through its serialized narrative at a breathless pace, including enough plot developments to satisfy three seasons. It is a part of the formula by now, though this season handled it much better than the uneven first. There are twists and turns in nearly every episode, including some shocking deaths and the return of long-gone characters.
While some of the developments in season two are groaners, charismatic performances in key roles and generally the right tone make it a thriller worth watching until the end. Television has never made evil look so much fun.
Movie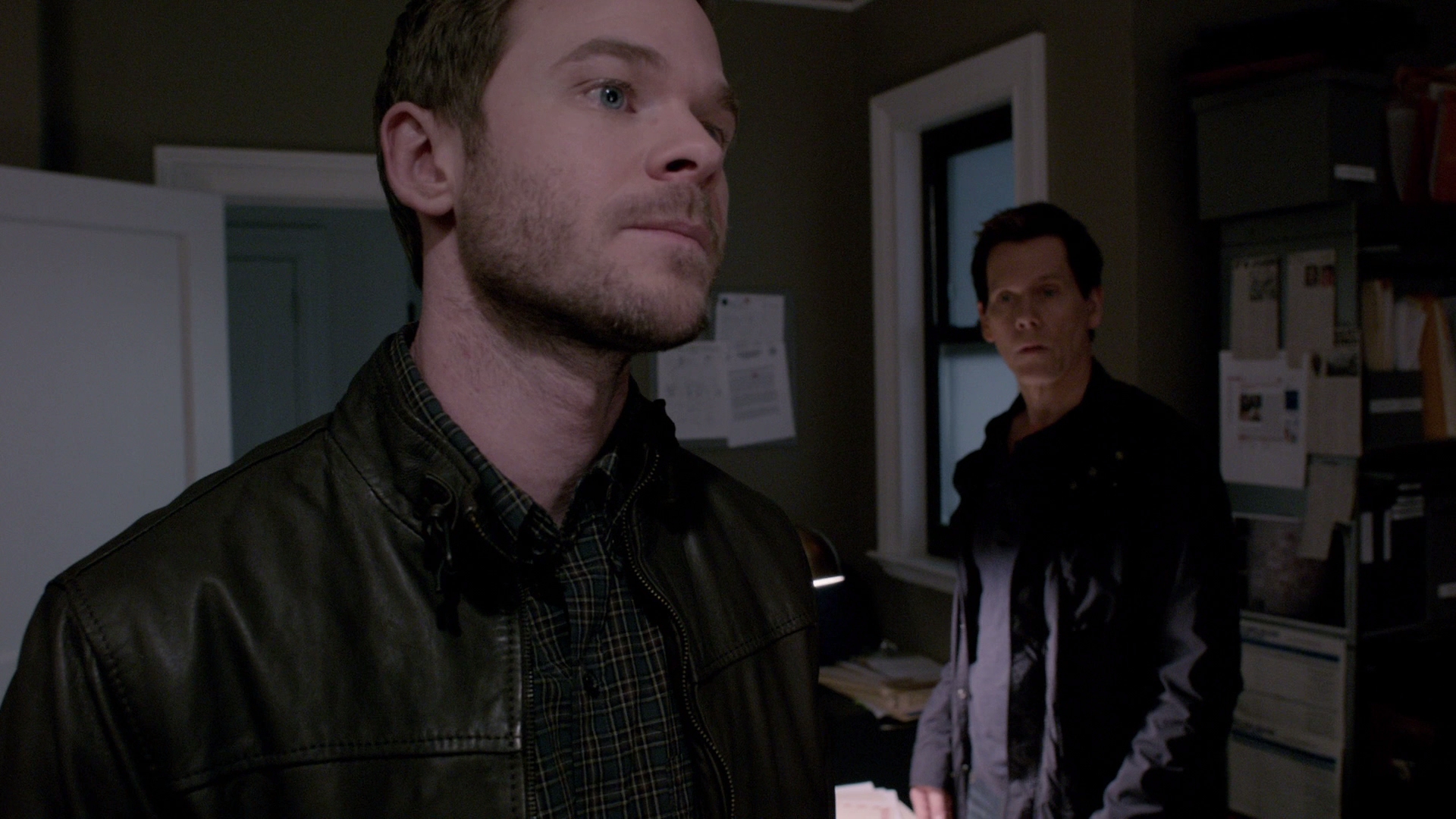 Warner Bros. has included all fifteen episodes, nearing 650 minutes of 1080P content, on three BD-50s. The Following has never looked brilliant on its national Fox broadcast and that aesthetic is perfectly retained here on Blu-ray, in a satisfactory but underwhelming presentation. The video is encoded in AVC at somewhat low parameters. Most episodes average around 15 Mbps. It should be noted there aren't obvious, overt compression artifacts on this set. The Hi-Def video is sharp and contains very-fine detail in abundance. Like most television programs, the BD uses the native 1.78:1 aspect ratio.
The Following loves using overexposure and underexposure in its cinematography, including dark interiors and occasionally noisy black levels. It is a rougher, less pristine aesthetic than most network television uses these days. The heavy black levels nearly crush shadow delineation, particularly in the darkest shots. Clarity is excellent in the sun-lit exteriors, though contrast dims a bit outside of that environment. The color-timing is fairly neutral, though one could say flesh-tones get washed out in exterior scenes.
This Blu-ray set perfectly replicates The Following's network broadcast, without introducing notable processing or problems. There are no indicators of edge halos or filtering in this transfer, likely taken directly from the HD broadcast master. It is not particularly stunning Hi-Def video but certainly looks much better than the included DVDs.
Video 
The 5.1 DTS-HD MA soundtrack is a stout affair for a television show. This is a show built on action as much as anything else, and its sound design definitely delivers an immersive experience. The lossless soundtrack provides thump when necessary and some fairly convincing surround elements, including gunshots and environmental noises. This is not a theatrical soundtrack in quality but on par with other action shows from network television. I thought it added a decent amount of entertainment by its active mix.
French and Spanish dubs are provided in 2.0 Dolby Digital at 192 kbps. The following subs display in a white font: English SDH, French, Spanish (Latin), Dutch, Spanish, Danish, Finnish, Norwegian, Swedish, and Spanish.
Audio 
This combo set boasts an impressive number of bonus features, though the inclusion of 14 short, behind-the-scenes featurettes overstates their value. The entire season is also included here on four DVDs in a thick Blu-ray Amaray case. An UltraViolet copy can be redeemed on VUDU or Flixster, for the entire season in HDX. It comes housed in a slipcase and includes a handy episode guide. Be warned, the episode guide does have spoilers.
Executive Producer and director Marcos Siega is all over this set's special features, featured heavily in interview form. Creator Kevin Williamson makes a few appearances as well, though he was more hands-off with this season than he had been with the first season. The cast briefly pop up, though we got less of Kevin Bacon than I was expecting. Apparently everything for these featurettes were shot before the final episodes aired on television.
2013 Comic-Con Panel (21:01 in HD) – Despite a good gag introducing James Purefoy to the panel, this is one of the more dry Comic-Con discussions I've seen. The cast seems a little bored, though every important cast member and creator Kevin Williamson takes part.
Following Marcos Siega (18:12 in HD) – This is the most extensive featurette, delving into a day on the set as director Marcos Siega films a scene. He goes over his goals with the show and how season two came to reality.
The Religion of Joe Carroll (09:20 in HD) – A featurette interviewing some of the cast working as Joe's new acolytes and how the killer uses religious messages to persuade his followers.
Bound by a Common Foe (06:34 in HD) – The relationship and friendship between Ryan Hardy and Mike Weston is explored.
The Joe Mask (03:21 in HD) – We learn how the very eerie, life-like mask was created.
Gag Reel (04:37 in HD) – A bunch of flubs and outtakes by the cast.
Sneak Peek: Silence (01:03 in HD) – A trailer of some kind intended for one of the episodes.
Season 2's Alternate Ending (04:37 in HD) – This is definitely a completely different outcome for the final episode of the season. Once you've seen the entire season, you'll realize the likelihood of this ending wasn't great. It was shot to fool everyone on set and prevent spoilers from leaking.
Unaired Scenes (All in HD) – By my count, nine episodes include unaired material. These are brief extensions or missing pieces, often lasting no more than three or four minutes for each episode. They are frustrating to watch since there is no option to see them cut into the episode itself. By themselves, they don't add too much.
Inside The Following (All in HD) – This is a series of fourteen behind-the-scenes featurettes, all tied to a different episode. Don't get excited too quickly, many of them are very brief and gloss over different aspects of production. It would have been easier if they had simply made them one extended documentary, as some run no longer than a minute or two.
Extras 
[display_rating_form]

[display_rating_result]
Click on the images below for full resolution screen captures taken directly from the Blu-ray. Images have not been altered in any way during the process.
---