(Note: A Thousand Times Good Night has not been released on Blu-ray in North America. Arrow Video's Blu-ray is locked to Region B.)
An emotionally-charged performance from Juliette Binoche as a wartime photographer
A Thousand Times Good Night is a showcase for star Juliette Binoche's immense acting talents. The French actress remains a huge star in European cinema, having built an impressive body of work over the decades. The affecting film is a personal one for director Erik Poppe, whose own experiences as a wartime photographer for Reuters informs its story. It won the Special Grand Prix of the Jury at the Montreal Film Festival 2013. Rebecca Thomas (Juliette Binoche) is an international photojournalist, seeking to document the most dangerous situations possible in war zones across the world. Her commitment to the job drives a wedge between her family, resulting in heavy emotional turmoil for everyone involved.
Becca Thomas is a driven woman, reckless in her pursuit of photographs that will publicize the issues she most cares about. She also happens to be a wife and the mother of two young daughters, Lisa and Steph (Lauryn Canny). The globe-hopping photographer shows no fear going to the most war-torn situations possible. A Thousand Times Good Night opens with Becca documenting a female suicide bomber's final preparations in Kabul. A Western journalist has to risk their life to get photographs in war zones. Poppe treats it with the seriousness that kind of situation deserves, using the scene as an excellent method to paint Becca's fearless personality.
Surviving the explosion in Kabul when things go wrong, Becca heads back home to her family in Ireland. Her husband Marcus has a tough time dealing with Becca's willingness to repeatedly put herself in danger. Nikolaj Coster-Waldau (better known as Jaime Lannister from Game of Thrones) plays Marcus as a husband struggling with his wife's repeatedly poor life choices. This movie is really about Becca's emotional journey but Marcus plays a critical role as the person pointing out the family's problems created by her actions. He can't deal with the stress of raising their two young daughters with the knowledge that their mother could get killed at any time on her frequent trips.
If the emotional toll on Marcus is too much, Becca's oldest daughter Steph has an even tougher time processing her mother's passion for wartime photography. That relationship comes to a head when Becca forsakes dangerous assignments for a supposedly safe humanitarian trip to Kenya, bringing Steph along. As these things often happen, the situation suddenly turns dangerous and Steph becomes horrified when she witnesses her mother in full-on photojournalist mode. The emotional conflict between them drives the rest of the narrative.
A Thousand Times Good Night is an intimate melodrama. The story feels distinctly personal, which does add an air of authenticity to its emotional maelstrom. Juliette Binoche is fantastic as Rebecca, a complex woman that is not completely comfortable being a wife and mother. Rebecca craves the intensity of her job, creating an emotional distance from her family at home. A Thousand Times Good Night has been elegantly crafted with extraordinary care, featuring an excellent cast and top-notch atmosphere. Some of it is a little too precious, Rebecca's daughter Steph is probably too perfect for a young girl about to enter puberty. Lauryn Canny turns in a remarkable performance as a child actor. It is almost too polished, making the character seem older than her depicted age.
At times engaging with its complex psychological portrayal of a dangerous profession, A Thousand Times Good Night is worth seeing for Juliette Binoche's performance alone. Its ambitious direction probably should have been reined-in a bit; no one needed underwater shots for more symbolism.
Movie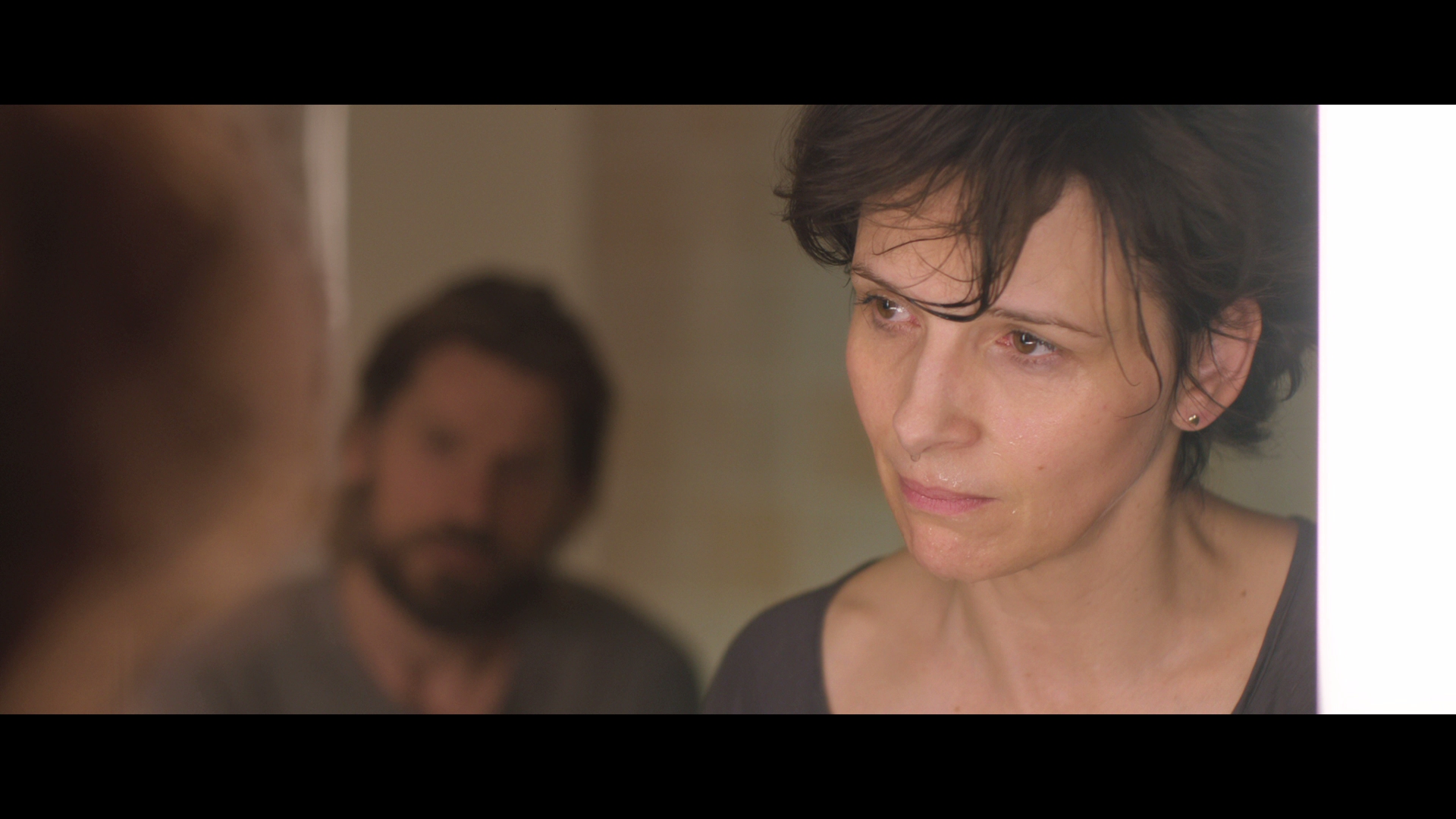 Arrow Video delivers a handsome 1080P presentation for A Thousand Times Good Night. The movie showcases professional digital cinematography, framed in an eye-pleasing 2.40:1 widescreen aspect ratio. The main feature runs for 117 minutes on a BD-50, encoded in AVC at an average video bitrate of 30 Mbps. The razor-sharp video is pristine, easily handled without artifacts aside from one spot of posterization and very minor chroma noise.
The picture possesses excellent depth and texture. The crisp clarity has nigh perfect contrast and black levels, though it is occasionally too bright. That brightness slightly washes out some of the paler flesh-tones. The transfer likely reflects the full intent of Erik Poppe and his cinematographer, it sparkles at times without any added video processing or filtering. If one pays close attention, there is a minute amount of some motion judder in a handful of scenes. I would speculate those may have been filmed with digital cameras at 25 FPS and then converted to 24 FPS.
This is an attractive, appealing movie in terms of its video quality. A Thousand Times Good Night is a step behind demo material but lands well above average amongst newer Blu-rays.
Video 
Much of A Thousand Times Good Night is dialogue-driven drama, giving little room to shine for its 5.1 DTS-HD MA soundtrack. There are a handful of moments that deliver an immersive mix with rich bass and directional surround cues. The opening in Kabul ends in an explosion that will rock your home theater, as the entire soundfield envelops the listener.
The elegant underscore by Armand Amar is a tasteful job reminiscent of Hans Zimmer's scores. Dialogue is always clean, anchored to the center channel. The lossless soundtrack features perfect fidelity in a classy, modern mix.
A 2.0 PCM soundtrack is included for stereo listeners. Arrow Video provides no subtitles on this disc.
Audio 
An unusual release by Arrow Video, the British distributor includes no special features for this European film. The two trailers preceding the main menu are it.
Like Father, Like Son Trailer (02:10 in HD)
Arthur and Mike Trailer (02:12 in HD) – This movie is known as Arthur Newman in the United States.
Extras 
Full disclosure: This Blu-ray was provided to us for review. This has not affected the editorial process. For more information on how we handle review material, please visit our about us page to learn more.
[display_rating_form]

[display_rating_result]
Click on the images below for full resolution screen captures taken directly from the Blu-ray. Images have not been altered in any way during the process.
---