Director Wes Anderson handles the star-studded cast with unique charm and whimsical style in this grand adventure
The Grand Budapest Hotel is another major accomplishment by master filmmaker Wes Anderson, possibly the most unique directorial voice of his generation. An imaginative tale about a legendary hotel concierge in another time and place, Wes Anderson has constructed an elaborate fictional reality that breathes with life from beginning to end. Featuring Ralph Fiennes and a host of actors that have come to populate Anderson's movies such as Bill Murray and Owen Wilson, this is a less personal and more dramatic entry in the auteur's oeuvre that still sparkles with his trademark quirkiness and unique touch.
The Grand Budapest Hotel opens its narrative in the present and quickly peels back layers of time as we visit the once-opulent hotel in various ages. The primary time period for this story is 1932, set between the two great wars. Anderson places the famous European hotel in the fictional Republic of Zubrowka, a wise choice for this particular movie that makes everything seem more magical and timeless.
We get a stand-in for the Nazis under the alias of Zig-Zag. M. Gustave (Ralph Fiennes) is the head concierge, a fastidious man who romances the wealthy older ladies using the hotel. Along the way, Gustave becomes close friends with a young lobby boy, Zero Moustafa (Tony Revolori). Their friendship is the heart of The Grand Budapest Hotel, one that recalls the same type of relationship seen between Bill Murray's and Jason Schwartzman's characters in Rushmore.
The dense plot is too long and intricate to recount, but needless to say Gustave inherits a priceless painting from one of the women he served. The woman's family hides her second will granting Gustave the painting and they frame him for her murder. It becomes a wild, delightful crime caper with Zero assisting Gustave's escape from prison. Whimsically constructed around an ensemble cast of colorful characters, Wes Anderson pulls out his long rolodex of friends and gets them to appear in extended cameos. Edward Norton, F. Murray Abraham, Adrien Brody, Tilda Swinton, Jason Schwartzman, Willem Dafoe, Harvey Keitel, and Jeff Goldblum contribute quirky performances, among others.
The vibrant world of The Grand Budapest Hotel has been thoughtfully built with careful consideration for every element. Elaborate set design and art direction are a character unto themselves, engaging the viewer on a level few movies attempt these days. It is possibly the best crafted film by Wes Anderson, an inviting place many will want to visit again and again. I can't call it the most entertaining film by him but it is his first film made with truly adult sensibilities. In a world where giant robots fighting each other easily wins the box office, The Grand Budapest Hotel is an excellent movie for the sophisticated moviegoer that wants a slice of whimsy in their entertainment.
Movie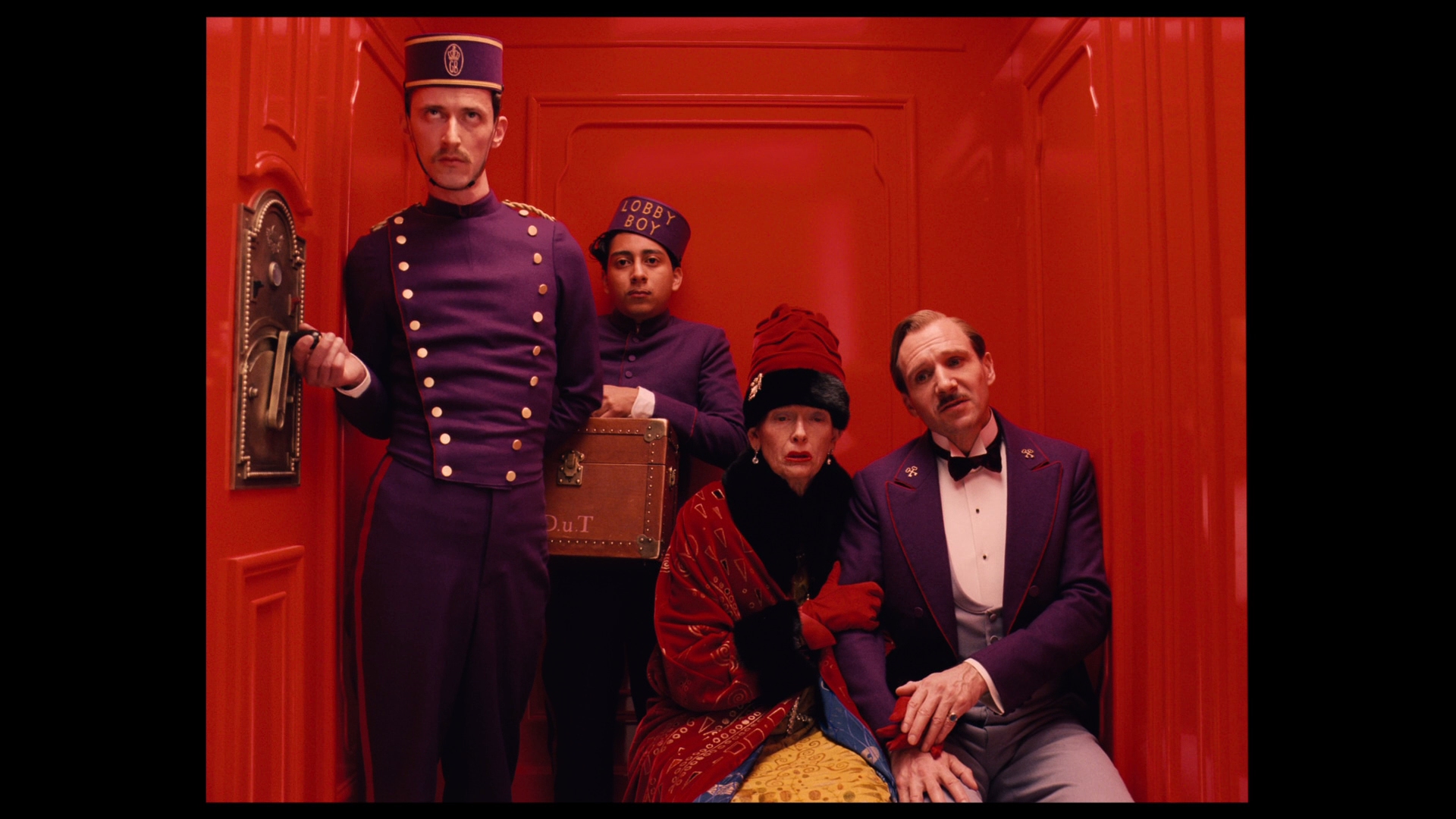 The Grand Budapest Hotel is a marvel to behold with its lush visuals and decadent production design. Anderson's fans will be very familiar with the work of cinematographer Robert Yeoman from movies like Moonrise Kingdom. This is the most fully realized artistic vision ever accomplished by Wes Anderson, featuring extravagant sets and incredibly precise cinematography. The Grand Budapest Hotel is that rare film that utilizes a variety of different aspect ratios, changing depending on the time period. Gustave's story is shown in a standard 1.33:1 aspect ratio that takes full advantage of the differing dimensions.
The picture quality itself is pure and pristine, full of unfiltered high-frequency content and a brilliant color palette. Its rich contrast features strong black levels with a hint of crushing. There is outstanding depth and dimension in the picture, displaying appreciable levels of pop. The crisp definition has a warmly-lit palette with gorgeous color saturation, rendered in delicate hues. Once in a while. the necessary usage of digital composites might creep into the background but the resultant aliasing is kept to an absolute minimum. Fox has transferred this film from its digital intermediate in utter clarity and perfection, perfectly replicating the theatrical experience.
The AVC video encode averages a stellar 32.97 Mbps, the 99-minute main feature is given a BD-50. Perfectly handling the fine detail of the razor-sharp 1080p video, there are no compression artifacts. I know everyone expects Criterion to eventually release their version of this movie, but The Grand Budapest Hotel simply can't look any better on Blu-ray than this Fox edition. It provides a vivid Hi-Def experience that looks fabulous.
Video 
Alexandre Desplat employs a traditional score for The Grand Budapest Hotel, lightly accompanying the action with some pieces from classical music. This is a solid 5.1 DTS-HD MA that spreads the score throughout the soundfield, immersing the listener in a precious world of soft noises and minor directional cues. The sound design is not overly aggressive, delivering the dialogue in rich fidelity. It does get playful at times in the surround channels, especially when Gustave breaks out of the prison. While not the best audio demo material, this is a perfect soundtrack for the tone of Grand Budapest Hotel.
Fox has authored this disc for obvious worldwide appeal. The region-free disc includes many foreign-language dubs and subtitle options. The following dubs are included: French DTS 5.1, Portuguese Dolby Digital 5.1, Russian DTS 5.1, Czech Dolby Digital, 5.1 Hungarian Dolby Digital, 5.1 Polish Dolby Digital, and 5.1 Turkish. A ton of subtitles are also included, displaying in a white font: English SDH, French, Spanish, Portuguese, Arabic, Bulgarian, Croatian, Czech, Dutch, Estonian, Greek, Hebrew, Hungarian, Icelandic, Latvian, and Lithuania.
Audio 
Everyone knows that Criterion has a special relationship with Wes Anderson's films, one of the few modern directors they have chosen to release on Blu-ray. This Blu-ray edition by Fox provides a decent bunch of special features featuring most of the cast and crew. The promoted featurette with Bill Murray is over hyped, though the short vignettes are well worth watching as extensions of the movie. This batch will have to tide us over until Criterion gets their shot at the movie in a few years.
First pressings should include a slipcover, replicating the cover art. Fox has included an UltraViolet digital copy that redeems in HDX on VUDU.
Bill Murray Tours The Town (04:17 in HD) – Bill Murray hangs around town and behind the scenes with the make-up department, cracking jokes. Murray's appearance in the film was little more than a cameo, I don't think this really makes up for it. It is funny but too brief.
Vignettes (09:00 in HD) – A series of three short promotional videos covering the world of this movie, including how to bake and a brief historical reel on Zubrowka's past. I almost consider them extensions of the movie and should be seen for its fans.
The Making Of The Grand Budapest Hotel (18:08 in HD) – A documentary broken up into four parts, detailing how the fictional world was created behind the scenes. Director Wes Anderson and most of the cast make appearances. It was fairly engaging to watch and felt more earnest than the press kit material we tend to get on these featurettes.
Cast (03:24 in HD) – Members of the cast talk about other members of the cast.
Wes Anderson (03:46 in HD) – The many stars in the cast talk about their appreciation of Wes Anderson and his films.
Theatrical Trailer (02:26 in HD)
Sneak Peek (09:01 in HD) – Five trailers for a variety of films and promos.
Extras 
Full disclosure: This Blu-ray was provided to us for review. This has not affected the editorial process. For more information on how we handle review material, please visit our about us page to learn more.
[display_rating_form]

[display_rating_result]
Click on the images below for full resolution screen captures taken directly from the Blu-ray. Images have not been altered in any way during the process.
---