Contemporary storytelling brings Walter Mitty into an era of frazzling Papa Johns logos as it chokes itself on idyllic dating websites, enjoys popularized comfort food at notable chains, and finds Mitty himself spilling details to a notable career finder. Fox's remake of a 1947 Danny Kaye spectacle and 1939 James Thurber short story cost $90 million, most of which was apparently paid by corporate sponsors.
Ben Stiller hoists the camera to double up as an actor/director, Mitty's a story of an outmoded negative finder in the basement of Life Magazine's valuable photo lab. Daydreamer by trade, Mitty's world is uprooted as Life's physical magazine nears closure, a catalyst for this cinematography rich, globe wandering chill fest. Greenland, Iceland, and treacherous portions of Afghanistan pull Mitty from his dream state into an improbable reality for his own growth and to dazzle a short term female co-worker.
Walter Mitty's proportion of ridiculous is grandiose, somehow taking a desk worker onto mountain peaks at 18,000 feet without a sense of perilous passage. As with his dreams, as Mitty wishes, Mitty does. Therein lies a head bonking fantasy parable about living outside of your restrictions, which would seem perfect for Nike's, "Just do it" slogan – but they must have missed the contract signing phase.
Indelible opening credits exhibit a rare quality of sharp ingenuity, pulling viewers in by force to find a usual stream of company copyrights. Maybe Mitty sees his routine life turning into a feature from these climatic moments of a critical American publication; slapping production notes street side fits within Steve Conrad's screenplay and in building this cinema-born hero.
Stiller's depiction of a shelled off mind wanderer is but a slice of this feature do over despite trailers buzzing over the visual effect enormity. Walter Mitty is instead softened with reality, if one pushed into flamboyant gestures leading to a shark encounter in frosted Icelandic waters. New York locations are purposefully boredom inducing because of post-production color correction, spilling saturated activity into foreign sites like Nuuk, Greeland and its jokey population of eight.
In turn, Mitty's life undergoes a subtle envelopment of color, intersecting with those who remain caught in life's dour motions. Stuffy metaphors are caught with impressive subtlety and overstating the cinematography's beauty is impossible. Walter Mitty's film re-do slings positives at viewers as often as it does corporate branding, doubling up the painful effect of gross advertising. [xrr rating=4/5 label=Movie]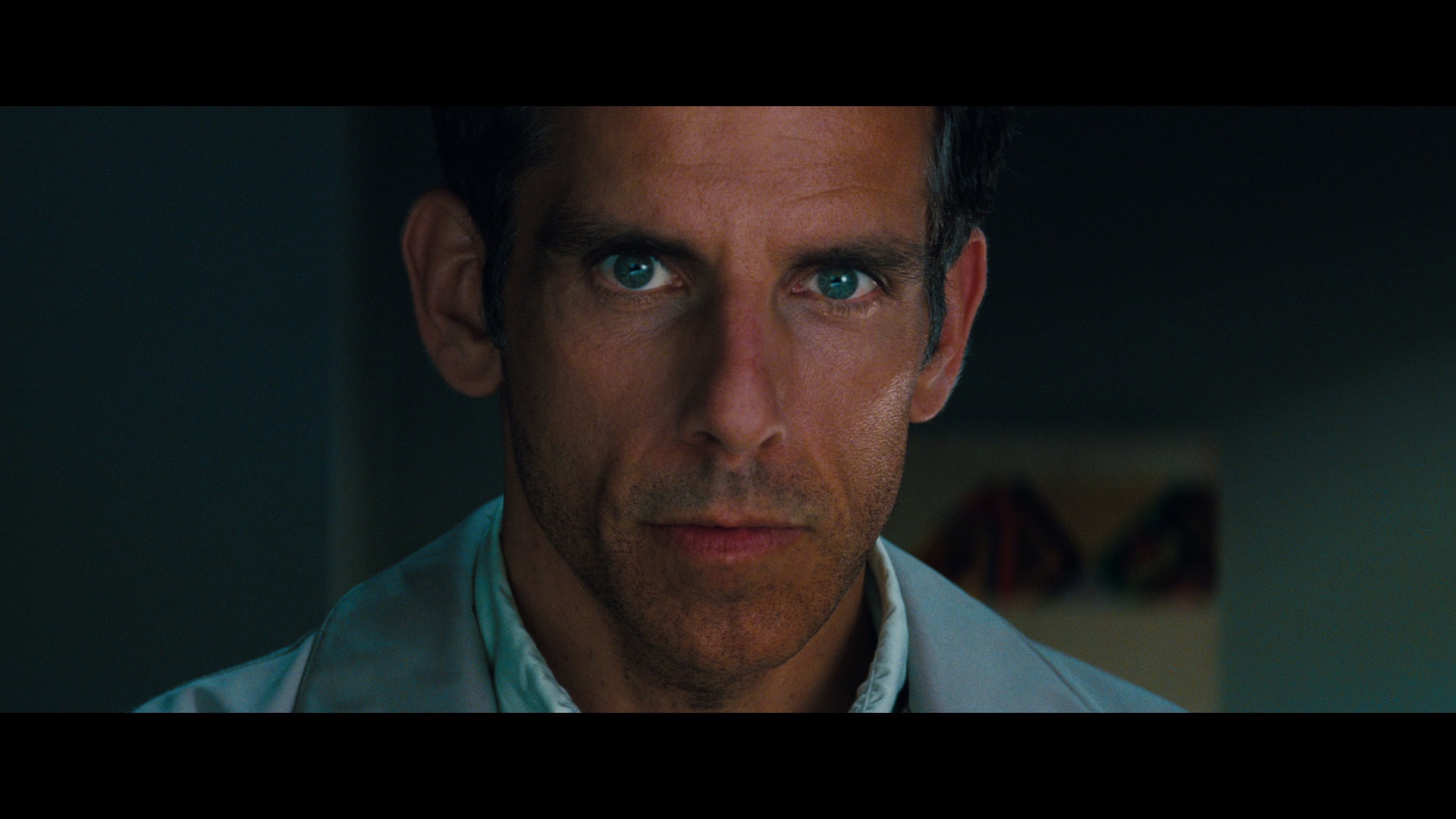 Beautiful film stock crafts the 2.35:1 frame of Walter Mitty, headed to Blu-ray with an ample encode of no discernible faults. Compression routines pitch a splendid grain structure without roving inconsistencies, delivering on the potential for extended fidelity and depth.
Source cinematography intentionally weakens in spots, softening images of Cheryl (Kristen Wiig) in places or using focal tricks to embellish dream states. However, Mitty is often doused with sharpness to capture the strengths of Greenland's astonishing scenery and set up immense scale to back this journey. Black levels will serve up deepened contrast, crucial to the film's existence aboard a decomposing fishing vessel.
Obsessive adherence to Hollywood norms of orange and blues break from obnoxiousness, used to a level of intelligence rather than unoriginal color wheel cloning. Infused with a touch of Michael Bay, a super-hero level action dream plummets into singed orange to relay the feel of those summer blockbusters. Greenland's space erupts with, well, greens and primaries are allowed an investment into the piece.
This saturated blow-out crushes the Life offices with sullen hues, zapped of their energy to reflect the newsstand staple's closure as much as it does Mitty's complacency. It's rare to consider the conflict of orange and blue credible rather than a post-production convenience, yet here is an example to film by. [xrr rating=4/5 label=Video]
Dreams bring about trailing building explosions and a boisterous cityscape to build an exceptional layer of sound design into a personable story. Sizable moments include a boomy elevator fight with wall thuds enhanced by the LFE and subtle waves splitting the seven available channels cleanly as Mitty drifts in the ocean.
What may appear like 7.1 overkill for such a feature is intrinsic to its scope. Dreams are substantial in their overall heft, and as Mitty grows, so does the pitch of the audio. Highs are pristine, and atop mountains, air effectively swirls to match the busyness of New York scenes. Design is never caught in a phase of being overbearing or to a point of being essential. Instead, it's subtle to match the ebb and flow. [xrr rating=4/5 label=Audio]
Brief bonuses offer minimal material for fans, from a suite of deleted/extended/scenes (15 minutes) to nine behind-the-scenes snippets averaging out to four minutes a piece – and no play all option. Detailing Life magazine's height, Mitty's history from a short story, the score, and specific scenes, little here is worth soaking in. There's not enough time afforded to any of them to do so. [xrr rating=2/5 label=Extras]
Full disclosure: This Blu-ray was provided to us for review. This has not affected the editorial process. For more information on how we handle review material, please visit our about us page to learn more.
[display_rating_form]

[display_rating_result]
Click on the images below for full resolution screen captures taken directly from the Blu-ray. Images have not been altered in any way during the process.
---