Sharp and heavy on timing, Adam Scott proves capable at leading this stuffed cast of named actors, even if his presence wanes as ACOD plunges into the depths of drama. Spurred on by the impending marriage of his younger brother, Scott inadvertently reinvigorates his parent's snippy ex-marriage into renewed romance, discovering he himself was a useful pawn in an exploitative authors book regime.
The set-up is quickened, featuring a blistering, heated performance from the dependable Richard Jenkins and his on-screen ex-wife Catherine O'Hara. Seething hatred brews under their lines and Scott's admirable calming effect is planted in place for reactionary laughs. As an "Adult Child Of Divorce," Scott ricochets his feelings and dampens the happiness of others, comically resistant to trust.
ACOD's fuel is based on those encounters, turning misfit, tattered relationships into a harbinger of awkwardness. Unfortunately, the film turns personal and revelatory, as if writer/director Stu Zicherman is spilling his personalized childhood story. Scott becomes less of an intermediary, flaring up internally as control is lost. He's forced to face his past directly, confront it even, setting up a cushioning landing for the closure of the piece.
Said turn-around hinges gags on Jane Lynch's therapist/non-therapist, an indifferent investigator into the events surrounding Scott's life. She's pushy, braggy, and forceful yet in a way which subdues those who resist her interest. The role is cast to her strengths.
The film finds itself squeezing further character to the chagrin of pacing, including Jessica Alba as another of Lynch's investigated children. Scripting forces Alba into Scott's life for the sake of a flare-up which never comes. Implications are seemingly rejected, bringing to the surface a question of why the narrative structure bothered.
Blips from Amy Poehler and Sarah Burns feel shoved in to fill space on marketing material, lessened to near cameo roles with inessential impact. ACOD's blunders feel tied to a weighted cast bumping into one another for screen time, clustering around some small character frames like Ken Howard who seem to be hoisting the film's heart without anyone hearing the beat. Suddenly, Scott's starring role feels delegated, snipped together between designated screen time to the detriment of the feature – from star to secondary plot device.
About half of ACOD charts on a made-up comedic laugh meter. Its zingers and parental discomfort find themselves smoothly striding into success. Adam Scott's holding of the material bonds enough of the feature to grant it a pass, even with the sickly second half. [xrr rating=3/5 label=Movie]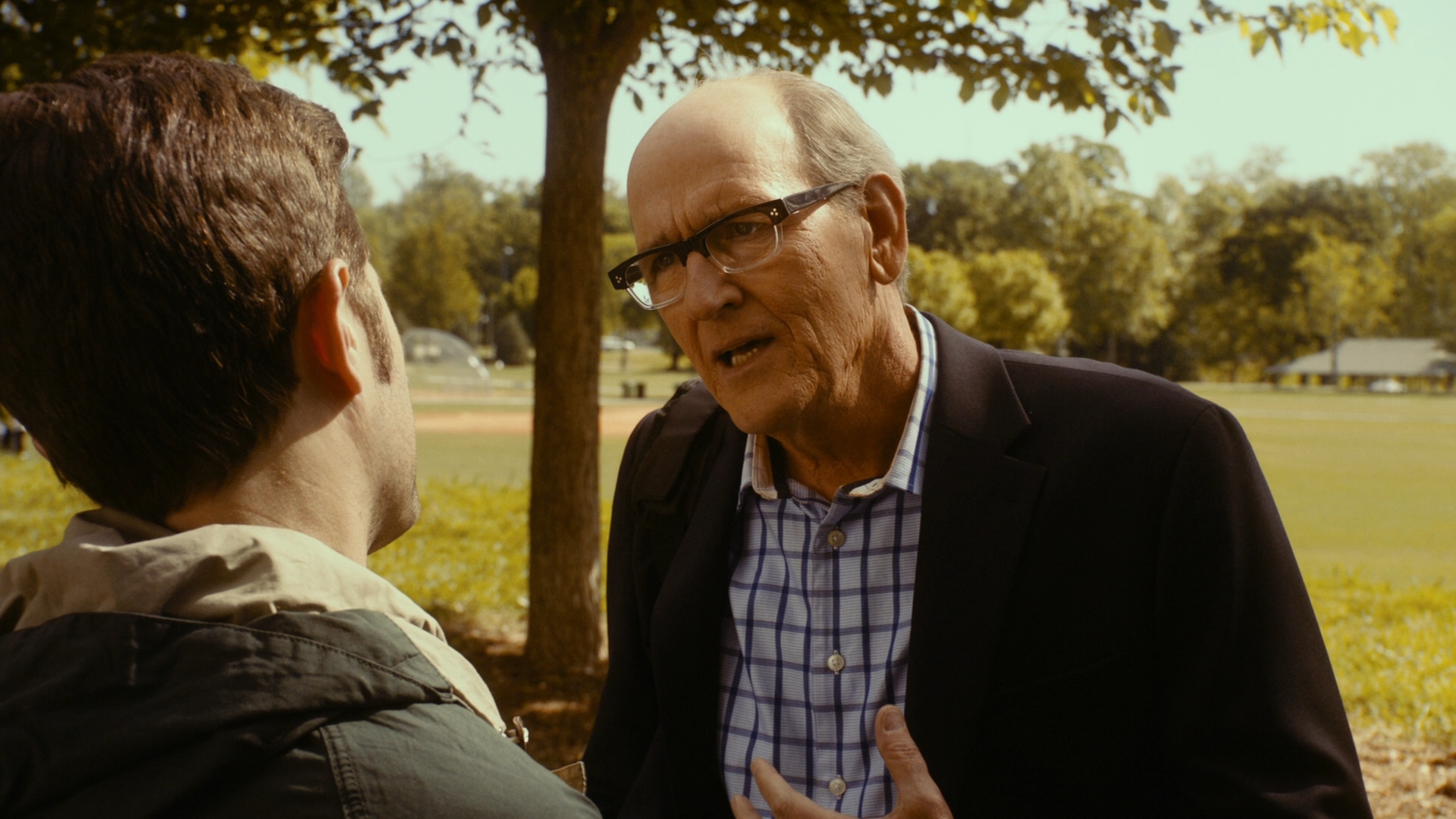 ACOD carries some of film's appearance, but what lies in front of viewers is not film. Paramount's generous and almost ridiculously high bitrate encode should not be generating noise… and it's not. This (apparently) Arri Alexa-shot feature takes a hit from what would appear to be an intentional simulation of grain, and end results are distractingly noisy. Digital specks cover nearly every frame, and while detail thinning is rarely a side effect, it is no less clumsy in appearance.
This piece could also carry a heat advisory for its flesh tones, brimming with digitally graded skin and environments. Orange is in vogue for ACOD. Other primaries take a hit from the look, if losing only minimal zest. However, an adjustment to orange is needed.
Touch up in post tweaks but does not defeat ACOD's embedded sharpness, parlaying sheets of facial definition in consistent close-ups. Texture on clothing is sublime (especially Poehler's loud selection) with environments sprouting flawless renderings of trees, down to individual leaves. Cinematography is performed sans murkiness or wavering softness, a refreshingly consistent visual outing.
Final elements? Black levels carry a strong standing when requested, holding out during a nighttime exterior debate at a restaurant. Peppy contrast is quick to intersect as needed for a secondary depth push. No signs of crush or blotchy whites here. [xrr rating=4/5 label=Video]
For a slender sounding comedy, ACOD will request little from this DTS-HD mix. Scott's character owns a restaurant where glasses can be heard clinking in the surrounds for ambiance. Street level noise almost falls asleep as it enters for effect, but it is there. Dialog dines on the center without finding reason to snack elsewhere.
ACOD feels mixed a touch low, although a sprucing up on the volume alleviated any concerns. Much of the audio sort of "is" and exists to propel a typical comedic space. Expect little and you have expectations in place for more than competent work within material rarely requiring it. [xrr rating=4/5 label=Audio]
Abysmal extras are inbound for this personal comedy, beginning with a cast & crew discussion post-screening which seems to ignore or skimp on any details of merit. Brief snippets of personal recountings that led to the film are barely offered. A series of Amy Poehler outtakes follow for less than 30 seconds, all contained on one line. Jane Lynch speaks on what ACOD stands for (incorrectly) while a series of PSAs on ACOD are satirically formed over six minutes. [xrr rating=2/5 label=Extras]
Full disclosure: This Blu-ray was provided to us for review. This has not affected the editorial process. For more information on how we handle review material, please visit our about us page to learn more.
---