Adapted from the novel by Henry James, The Portrait Of A Lady was one of Nicole Kidman's first attempts at Oscar gold, in a lush period piece by noted director Jane Campion. The stellar cast, from John Malkovich and Barbara Hershey to a young Christian Bale, are uniformly excellent in their roles. Unfortunately Kidman is slightly in over her head as the principal star, especially up against the more talented actors in the movie.
For a film that moves at a languid pace, the complex narrative seemingly cuts out important bridging scenes that would have made it  more enjoyable and easier to follow. It was obviously intended to be a richly layered tale of seduction and betrayal, but in the end is a bit dull and lacking real emotion. Apparently this adaptation is fairly faithful to the James' novel, though the story appears to work better on the page than on the screen, at least going by this film adaptation.
The entire story is centered on the whims of one Isabel Archer, a free thinking woman in the 1870s that rebuffs a marriage proposal from a rich English Lord, something proper ladies did not do at the time. She comes under the care of her rich uncle and his son, her cousin Ralph Touchett (Martin Donovan), whom she immediately grows very close to as a friend and confidant.
When the uncle dies, Isabel is practically left his entire fortune, making her independently wealthy at the age of 23. A number of suitors come to woo her, including an American played by Viggo Mortensen. Isabel has dreams of world travel and strange ideas about men, driving her to refuse their advances until she meets Madame Serena Merle (Barbara Hershey). Merle has plans of her own in regards to Isabel's future, though one failure of this adaptation is making her reasons for this behavior clearly evident.
Merle is the older woman that plays the naive Isabel like a fiddle, introducing a broke lothario in Gilbert Osmond to seduce Isabel into marriage. This is where The Portrait Of A Lady begins to pick up steam, as John Malkovich lights up the screen as the dashing Osmond. Malkovich doesn't have the looks to play a convincing Osmond, a man that sweeps Isabel quickly off her feet, but his virtuoso performance makes up for it. Further machinations develop as Osmond is successful in eventually marrying Isabel, though the story begins to bog down when the marriage begins to fall apart.
The Portrait Of A Lady was intended to be a lavish period piece of the 1870s, and in that regard it succeeded. Not everything though works in the movie and Nicole Kidman merely gives a satisfactory effort as the lead heroine, outshone by everyone else in the cast. If only the story had been slightly more developed in the movie, it might have become something special. Instead we end up with a film that will likely only please hardcore fans of the novel.
Movie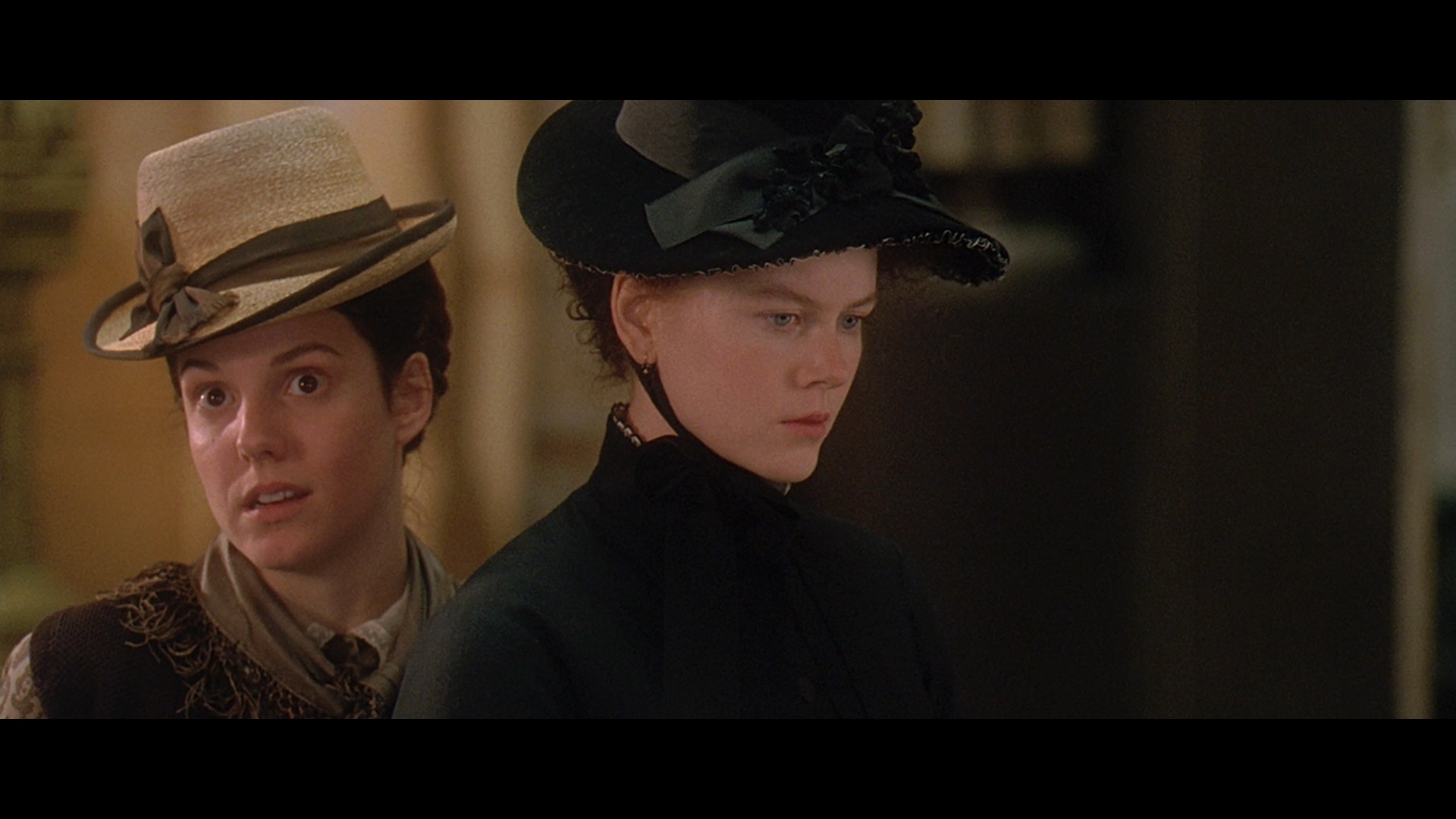 Film purists will not like this transfer at all due to a number of problems. Running 144-minutes, the 1996 film is encoded in AVC on a BD-50. Shout Factory has provided the video encode with excellent parameters, averaging 29.95 Mbps for the main feature. The Super 35 film is presented in its intended aspect ratio of 2:35:1 at 1080P.
Shout Factory apparently licensed the HD transfer from Universal, which should give anyone pause in regards to picture quality. It's a dated transfer likely from secondary film elements, marred by both digital noise reduction and constant ringing. While the cinematography is a bit inconsistent as the story moves from rain-soaked England to Florence, Italy, most of the movie lacks that extra bit of fine detail found in unprocessed HD masters. This movie could have looked vastly better on Blu-ray with a proper new scan of the camera negative. The print is unblemished and sparkling clean if you ignore some of the minor noise left behind by the DNR.
The image is not completely devoid of high-frequency content in close-ups, as the movie still retains solid clarity and definition due to its well-shot origins as a major Hollywood production. Halos are a problem and sharpening is evident in a multitude of shots, though the ringing becomes egregious in only a handful of scenes.
Contrast wavers a bit, especially in the first act as the dim interiors of the English homes are a little dark. Though there aren't explicit instances of pure black crushing, the level of shadow detail and delineation is spotty at best, frequently becoming a victim of the DNR and producing a mixture of odd noise artifacts and frozen grain. This is definitely not a film-like transfer but it should be satisfying enough to the fans that want to watch film in HD resolution. It provides enough of an improvement over the DVD versions to justify the expense of the Blu-ray.
Video 





Shout Factory has provided two solid audio options for the film. The main soundtrack is a perfectly fine 5.1 DTS-HD MA offering. There isn't much surround activity at all and the movie is a dialog-driven drama, but the various pieces of Classical music that dominate the score sound very pleasing with excellent fidelity. Simply do not expect much beyond a normal stereo presentation, though a few bursts of activity occur in the rear channels. Dialog is rendered with care and precision, never getting overwhelmed by the instrumental backing music.
A secondary offering is a 2.0 DTS-HD MA soundtrack. English subtitles for the deaf-and-hard-of-hearing are included in a white font. CIH users should be aware the subtitles drift partially out of the 2.35:1 framing.
Audio 





Theatrical trailer (2:29) – The movie's original theatrical trailer
Portrait: Jane Campion and The Portrait of a Lady Documentary (55:00 in 4:3 SD) – One of the more revealing and honest special features on a movie featuring A-list Hollywood talent ever put on home video. This is a real documentary that was shot on-location as the film was being made, with personal access to Jane Campion and the main stars. There is more real insight about making the film in it than ten electronic press kits the studios tend to use could ever reveal. Kidman complains of the grueling shooting schedules that Campion employs, sometimes filming 25 takes of a scene to get it right. Malkovich also shares his opinions on the nature of acting and the character he plays in the film. All in all, this documentary might be more entertaining to inside film buffs than the movie itself.
Extras





Full disclosure: This Blu-ray was provided to us for review. This has not affected the editorial process. For more information on how we handle review material, please visit our about us page to learn more.
---