Strike Back: Cinemax Season One is a fun, by-the-numbers action series, focusing on a secretive anti-terrorism squad called Section 20. Section 20 is supposedly a top-secret unit of British Intelligence, fighting anti-terrorism on a global basis. Its main field operatives are British sergeant Michael Stonebridge (played by Philip Winchester) and an ex-Delta Force soldier from America, Damien Scott (played by Sullivan Stapleton). Their relationship on the battle field and ability to overcome almost any terrorist obstacle is what makes the series so watchable. Expect testosterone-fueled military action, set against the backdrop of an international conspiracy surrounding the missing WMDs from the Iraq War.
Strike Back has high production values and Section 20 travels the world in its battle against terrorist forces, from South Africa to Kosovo. Some of the characterizations are a little unbelievable, especially the American Damien Scott. This is a British production through and through, even though it was broadcast on Cinemax in America.
Scott is little more than a walking stereotype, a brash American who can talk any woman into bed and acts like action-hero John McClane of Die Hard fame in battles. Stonebridge is the much more complex character, portrayed as the loyal soldier struggling with the domestic demands of his wife as he's constantly put in harm's way. Together they hunt for international terrorist Latif before he threatens the world with stolen WMDs.
In a nod to Cinemax's reputation, sex and violence are an integral part of Strike Back. Some of it feels a little gratuitous, but the writers do a fine job of integrating their consequences into the overall story for each episode. Strike Back is not a family show but rises above its basic garden-variety premise through well-crafted action, interspersed with enough drama that adds actual emotional depth to the characters. The plot does become ridiculous in certain moments but clips along at enough of a frenetic pace to dismiss that as a problem.
Movie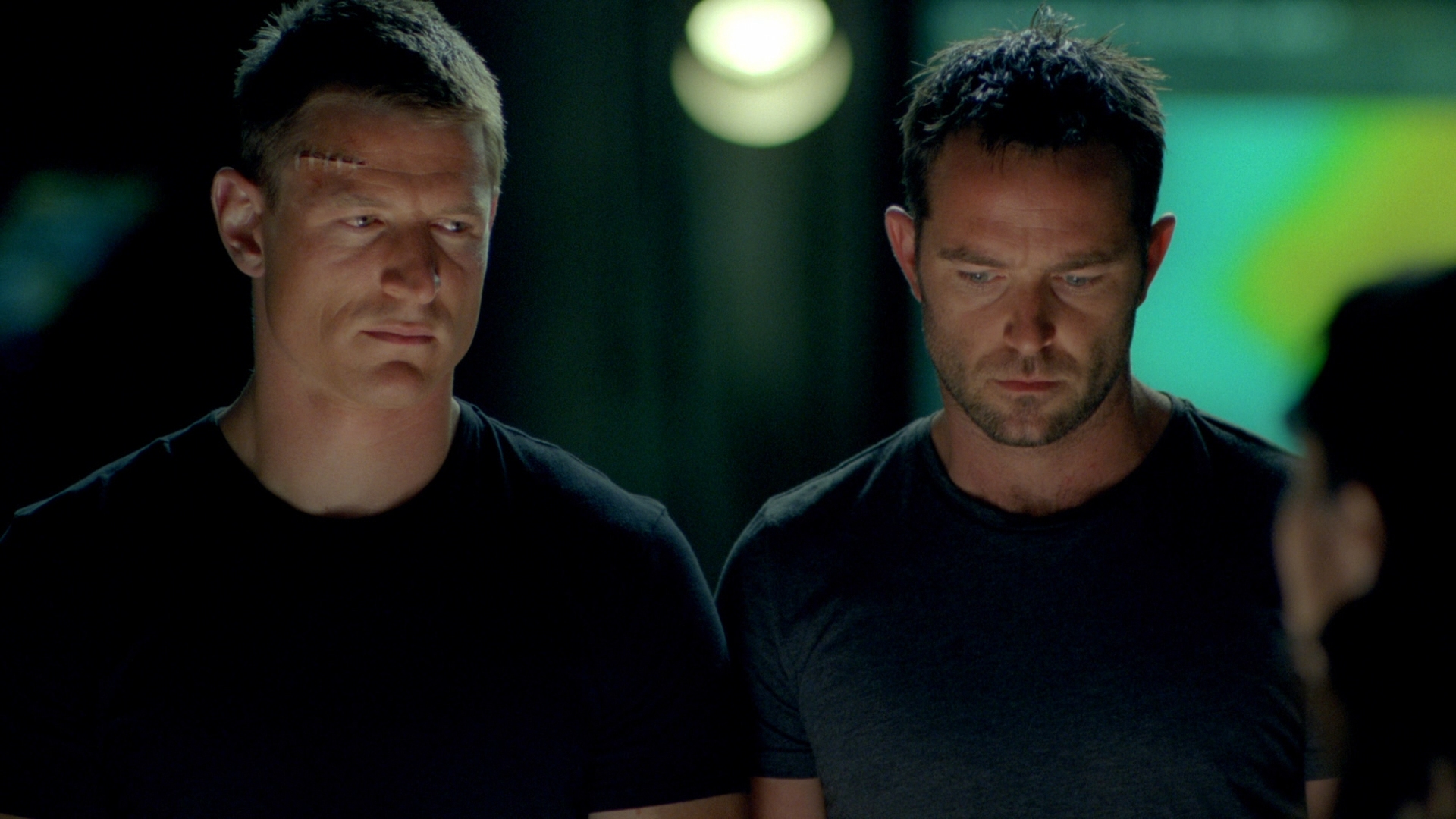 The video quality is a solid, if not perfect, effort by HBO (Cinemax is a division of HBO). Strike Back is shot on digital cameras and presents a slick, sharp viewing experience. HBO has used their typical specifications for Blu-ray, spreading the 10 episodes over four BD-50s. That allows the AVC video encode, framed at 1:78:1, to breathe comfortably with very high bitrates. According to BDInfo, most episodes average over 30 Mbps for video alone. It would be very difficult to point out a single instance of artifacting, except some minor camera noise that manifests in the darkest scenes. A few of the intense gun battles have a grittier visual aesthetic than normal but the picture quality is usually high-caliber digital video.
The color timing is pulled from the standard action template of modern Hollywood, with a jacked-up contrast and sizzling colors. It does skew flesh-tones toward magenta, especially in the early episodes. That changes as the series progresses to different settings, such as the desert in Darfur with different lighting.
The pristine image delivers an extraordinary amount of clarity and sharpness, though black levels are slightly crushed. The crushing produces the slightest reduction in shadow detail and delineation. A touch of aliasing shows up but it is nothing the average viewer will notice. Strike Back has an abundance of memorable high-frequency content and detail, from the tight close-ups of the actors to the realistic guns and props. What you get is a vivid, clean image with superb depth and dimensionality.
Video 





The audio options are impressive on Strike Back. The main choice is a 5.1 DTS-HD MA soundtrack that rumbles with significant bass during explosions and firefights. It's an aggressive, engaging mix that utilizes both surround channels to place the listener in the heat of battle. From the click of a gun chamber to falling grenades at the periphery of the action, the audio surrounds and envelopes the listener in a whiz-bang manner. This is the type of soundtrack where you'll want to turn the volume up and let the near-reference sound overpower the room.
Strike Back has been made with excellent production values befitting a premium cable channel and that extends to the quality of the audio. Dialog is clean and crisp, even in the various foreign locales the episodes feature. The score has excellent fidelity and adds the correct amount of tension to support the story, never becoming intrusive. Subtitle options include English SDH, French, Spanish, German, Danish, Dutch, Finnish, Norwegian, and Swedish. More audio options include: German DTS-HD Master Audio 5.1, French DTS 5.1, Spanish DTS 2.0.
Audio 





Strike Back features five separate audio commentaries amongst the ten episodes of season one. They each feature different members of the main cast and occasionally the executive producer, Daniel Percival. These are light and jovial commentaries by the participants, mostly the telling of personal anecdotes from the set and a good deal of behind-the-scenes topics.
While not the most in-depth commentaries, it is pleasant to hear the two main stars, Sullivan Stapleton and Philip Winchester, go back and forth on a variety of subjects. The one criticism that could be mentioned is the annoying tendency for the commentators to simply describe the action that is happening on the screen.
Episode 2 Commentary – Daniel Percival (Executive Producer), Sullivan Stapleton ( Damien Scott), and Philip Winchester (Stonebridge)
Episode 4 Commentary – Philip Winchester (Stonebridge), Liam Cunningham (Connolly)
Episode 6 Commentary – Philip Winchester (Stonebridge), Amanda Mealing (Col. Grant)
Episode 8 Commentary – Daniel Percival, Sullivan Stapleton (Damien Scott)
Episode 10 Commentary – Daniel Percival, Sullivan Stapleton, Philip Winchester, and Amanda Mealing
Also included as a bonus is the entire first season on two DVDs with a separate digital copy that can be downloaded.
Extras 





Full disclosure: This Blu-ray was provided to us for review. This has not affected the editorial process. For more information on how we handle review material, please visit our about us page to learn more.
---