It says something about our culture (or maybe our degrading education system) when the final glimpses of this Three Stooges reboot has to let viewers know it's unsafe to chainsaw someone in the head. Imagine a world where director Jonathan Demme steps on screen post-Silence of the Lambs to inform people that eating human livers with a nice chianti is not supported by the making of his film. We're a hopeless species… mostly.
It probably doesn't further human kind to continually laugh at someone having a lobster shoved down their pants either, but we all have to let go once in a while.
The Farrelly Brothers love Stooges. That much is clear. Most of their films have a sly nod or some element that recalls the classic Columbia shorts. For the most part, this remake/redo/reboot captures that spirit and those simple charms. Wrapped up in a plot not that dissimilar to Dumb & Dumber (dolts inadvertently save the day and lives through their mischief), these new Stooges know how to throw an eye poke.
Gags succeed on about a 50/50 curve, and plot devices steer this Stooges out of a timeless characterization. Someone probably though it was hilarious to have Moe (Chris Diamantopoulos) moonlighting as a reality TV star, and don't take that the wrong way: Having Jersey Shore's Snooki be the butt end of every physical poke, prod, or slam is worth the short term investment. The end result though is that future generations will wonder if the whole thing was part of the joke when the Shore gang mercifully fades into TV obscurity.
There is a purpose to the shenanigans, the threesome out to rescue their orphanage after it falls on hard financial times. Oddly, that's the same element that pushed forward the classic computer and NES video game adaptation of the skits back in the '80s. The game, however, reminisced about classic skits (boxing, pie fights, etc.), while the Farrelly edition cooks up fresher material. Split into three episodes (that are not all that separate), the first concerns their life at the orphanage, a place where no one seems to age other than the Stooges, and a pet rat can live for 30 odd years.
Stooges will loose its footing, especially in a hospital where the guys use newborn babies to conduct urine soaking exercises. As funny as that can be to the right person (and this is the right person spitting this review out), it feels out of sync with the classic style. It's more Farrelly than Stooge.
What's staggering is that for all of the aimless antics, from the head butting to the groin bashing, none of gets old and none of it feels pointless. Classically, and certainly via the means most people were exposed to them, The Three Stooges are meant to be consumed in chunks, brief shorts to get the audience laughing before a main feature. This 2012 effort, while not a masterpiece, still holds out for the full 90-minute running time. There's a variety of reasons why the trio needs to beat each other up, and there's a grand chemistry within the casting, necessary to make this work.
Stooges makes a gutsy call in the third act… err, episode. It splits Larry, Moe, and Curly up. The purpose is sound as a reprieve from the repetition and a means to give this doltish comedy an actual (teeny tiny) bit of heart. You can feel the sadness when they're not together, although never enough to avoid smirking at someone taking a church bell to the head. [xrr rating=4/5 label=Movie]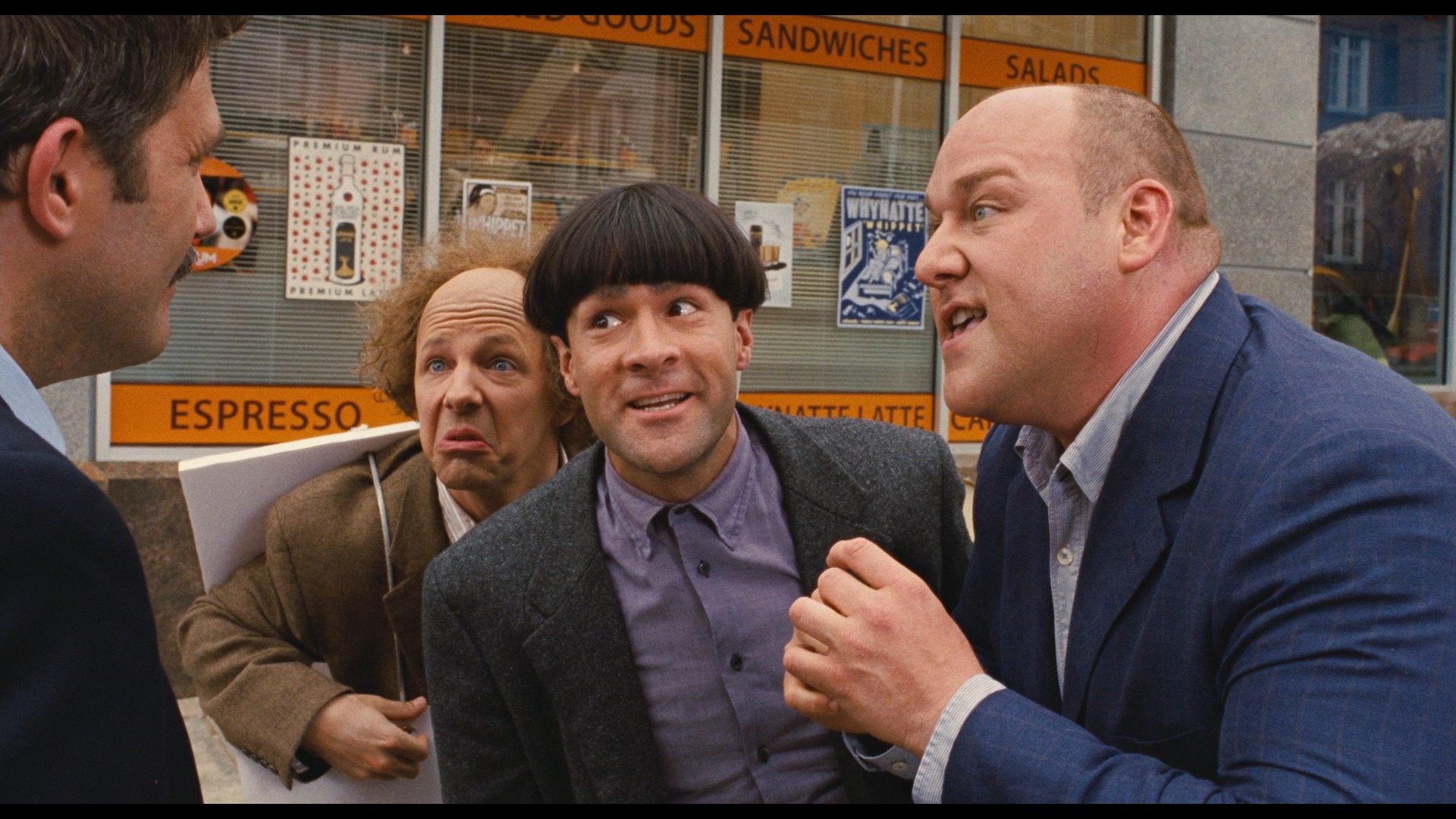 Fox smacks out an AVC encode worth taking note of, deftly handling a mild grain structure without any noticeable interference. This is one of the most consistent new releases in a while, carrying the same qualities from the opening chaos through the closing moments when the fake Farrelly brothers tell us their hammers are rubber.
Stooges isn't immensely textured, although it has some moments. A handful of shots stick out as exceptionally detailed, but the rest never look unnatural or flat either. The helping hand comes from the copious amount of contrast afforded to the imagery, densely filling it with bright whites and fantastic, enriching black levels. That quality is never lost, day or night, interior or exterior.
There's also the saturation lending a third hand for help, primaries popping immediately for a stable layer of color. Flesh tones feel unimpeded, and the Jersey Shore cast are ludicrously orange. In other words, accuracy to the max.
The disc is sharp enough to eek out some facial detail on the kids, an impressive feat no matter the film. Exteriors are rich in crispness, setting a beautiful scene for the idiocy to follow. Sharpness is never ignored, even for an instant. Most likely ignore comedies on Blu-ray (no explosions, right?), but Stooges sets an example of how the format can work out some of the intricacies even films like this can capture. [xrr rating=4/5 label=Video]
Correction: Three Stooges does have some explosions. Please ignore that quip in the last paragraph. No, the explosions are not flashy nor do they even show fire, but they sound great. A stick of dynamite goes off for a solid burst of LFE activity, and a lit fart used as an escape tool (it's high brow) generates a substantial boom.
Most of the activity exists in the low end or in the stereos. The mix is in constant awareness of characters moving off to the sides, taking light dialogue with it, or panning a vehicle if need be. Surrounds are rarely called upon because they don't have to be; little here requires they become noted. Parties have a mild atmosphere and a lion makes a leap overhead that pans front to back.
Classics don't die, and thus enters a fresh recording of the Stooges off-key theme, so no fidelity issues are found there. All of the sound effects are redone too, which are dead ringers for the usual pops and zingers when someone is blasted over the head in the original shorts. [xrr rating=4/5 label=Audio]
Deleted/Extended scenes run on for around 10-minutes to begin a small slate of bonuses worth watching. What's the Big Idea is a historical look at the original trio, their success, and their lives. Knuckleheads is a short behind-the-scenes featurette, not worth the five minutes. Did You Hear That captures the audio elements and how they were done, while Poifect Casting delves into the difficult task of finding three actors to fill tough roles.
Three Stooges Mash-up is all of the slapstick found in the film rolled up into three minutes. A screen test will show how these three were meant for the parts from the beginning. A series of trailers and BD-Live access end this one. [xrr rating=3/5 label=Extras]
Full disclosure: This Blu-ray was provided to us for review. This has not affected the editorial process. For more information on how we handle review material, please visit our about us page to learn more.
---