If Major League works for any singular reason, it is the interactions with its characters. Ricky Vaughn (Charlie Sheen) is meeting Willie Mays Hayes (Wesley Snipes) for the first time before spring training. Hayes innocently asks:
"What league have you been playing in?"
"California penal."
"Never heard of it. How did you end up playing there?"
"Stole a car."
Each character has a rival on this same Indians team, creating a level of dissension and animosity, in addition the hurdles faced on the field. Major League offers more than the typical group of aging veterans and unskilled rookies. It has that rare depth to its believable, likeable (and unlikeable) characters few sports movies provide.
Writer/director Davis S. Ward practically remakes the 1977 film Slap Shot, simply replacing hockey with baseball. The elements are familiar, even a rather dull, stilted romance between Jake Taylor (Tom Berenger) and Lynn Wells (Renee Russo). Weirdly, the men inside the locker room have more chemistry between them, leaving this subplot feeling unnecessary, a desperate attempt to offer something other than baseball. The only things missing are multiple bench-clearing brawls.
Nearly every written line becomes quotable, and their delivery is flawless. Without question, Harry Doyle (Bob Uecker) remains Hollywood's greatest sports commentator, with a swig of Jack Daniels behind his character's lines. Even Doyle has someone to play off, a typically mute color commentator whose expressions are more than enough to satisfy the script.
Maybe the best gag in Major League is the ending, where a stadium-wide celebration has the fans and the team running onto the field to commemorate their victory… which only gets them into the playoffs. They win their division, but despite the film's insistence on pushing the Indians' incredible lack of World Series victories, the audience is left out of what happened next. They're happy to have won anything. Sadly, Major League II ruined the sly joke, and whatever hope there was for a successful franchise. [xrr rating=4/5 label=Movie]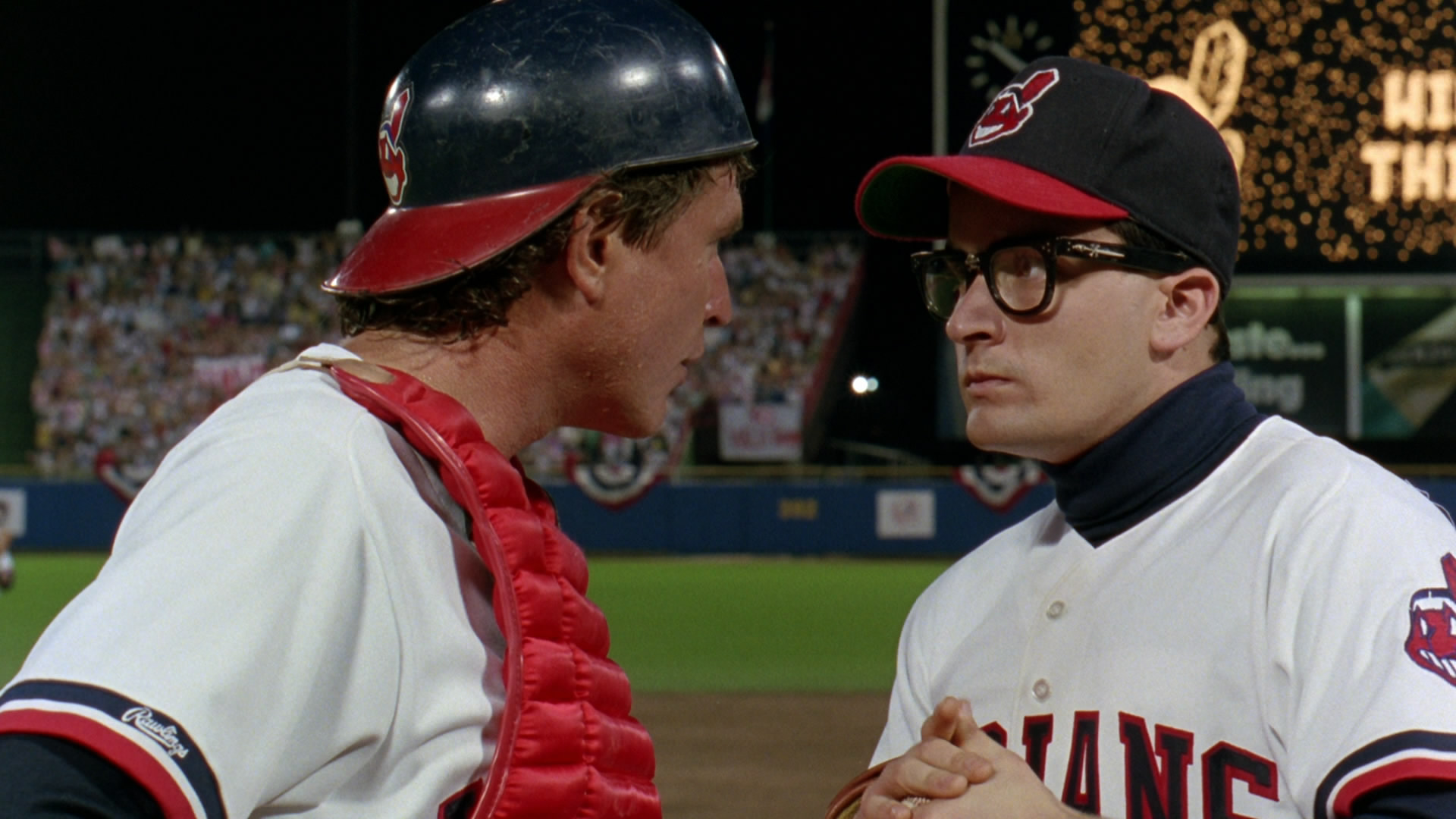 Paramount's first hi-def effort for Major League is serviceable. While generally soft, close-ups reveal satisfactory levels of facial textures. Some of the finer suits show evidence of specific stitching patterns.
Mid-range shots suffer in terms of clarity, despite a bright contrast and wonderfully rich, bold colors. The opening shots of Cleveland behind the credits are merely adequate in terms of definition and clarity, although it is Cleveland (please don't send hate mail). Black crush is a problem, if not a consistent one. Rachel Phelps outfit during the final game is a black blob with no discernible detail to speak of.
Stadium distance shots are maintained well, with fans clearly presented without noticeable artifacting. An occasionally thick grain structure is clean and unobtrusive. Colors are significantly more vibrant than previously seen, especially the green grass of the stadium, and reds of Indians' jerseys. Flesh tones are flawless. Print damage is marginal, with a few mild black specks that occur at random intervals. [xrr rating=3/5 label=Video]
While sports movies are typically known for their ability to immerse the viewer inside a large stadium full of screaming fans, much of Major League takes place inside a completely barren ballpark. As such, much of this TrueHD effort meanders in the fronts. A few opportunities are provided, including a rickety plane ride in a thunderstorm that not only lacks fidelity, but barely makes it out of the front soundstage.
The light, breezy soundtrack is fine, bleeding minimally into the surrounds. Dialogue is fine, worked into the mix with no need for adjustment.
Major League's audio highlight is the final game as Ricky "Wild Thing" Vaughn steps in as relief. As the music blares, the crowd sings along. Every channel comes to life with wonderful clarity, finally creating that open atmosphere everyone was waiting for. [xrr rating=3/5 label=Audio]
Sadly, while all of the extras have carried over from the Wild Thing DVD Special Edition, the awesome grass carpet-covered slipcover has not. Regardless, writer/director David S. Ward and producer Chris Chesser provide a commentary, a fine companion to the well-produced making-of My Kinda Team.
A Major League Look at Major League has current players discussing the film and their memories of it, and how well it recreated the real thing. Bob Uecker: Just a Bit Outside catches up with the former player about his role. An alternate ending was one of the wisest deletions ever, and a brief look at the small locker of Cerrano was filmed on set. A photo gallery is left. [xrr rating=3/5 label=Extras]
---