The Grinch is a jerk. Stealing Christmas is one thing, but in this live action adaptation, he puts a kids life in danger. As he first visits the town of Whoville, he hands a hacksaw to children, telling them to "run fast with it." No wonder the citizens are terrified of this odd being.
There are other bizarre oddities in this unnecessary Dr. Seuss adaptation. As babies are flown into Whoville, a man opens the door to see his new child and states to his wife, "It looks just like your boss!" Funny… in another movie.
There is a bizarre side to this film that eliminates the innocence of Whoville. What seemed like fun loving, care free, happy types are turned into everyday humans with weird noses. They either get drunk before Christmas or have a key party, depending on how you view it. What happened to the Christmas-obsessed town multiple generations of kids grew up with?
Ron Howard's unusually off-kilter direction utilizes goofy, odd angles that only make Jim Carrey's exaggerated performance inside Rick Baker's superb make-up increasingly frustrating.
The only benefit to the extended take on this short children's tale is backstory on why the Grinch is focused on destroying Christmas, a plot point previously left to the imagination. This leads the film's only bright patch, where an adorable baby Grinch munches on a Santa cookie, apparently foreshadowing his eventual turn.
Maybe that baby Grinch could star in a movie of his own. He is adorable, loveable, and charming, certainly more so than anything else in this rather hateful movie. That small infant rod puppet carries more personality than all of Carrey's performance (despite his energy). That seems to be based around his usual antics with a constant need to grimace to the left. [xrr rating=2/5 label=Movie]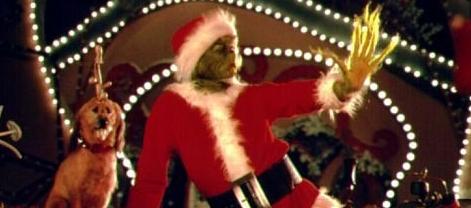 Universal apparently re-uses the DVD master for this Blu-ray release, the only logical explanation as to why this looks so poor. The VC-1 encode is littered with countless compression artifacts, clumping the grain structure and blotting out detail. Speaking of detail, almost nothing remains. Faces are flat, texture-less, and drab.
Black levels settle into a gray scale from the opening frames. Contrast is muted, and the entire presentation is lacking depth. Colors are lackluster, which could be intentional, but an odd choice if that is the case given the usual vibrancy of Dr. Seuss' art in the animated features. Softness dominates, although this is likely due to the use of filters. [xrr rating=2/5 label=Video]
A DTS-HD track is the highlight of the disc, a lively, active mix throughout. The Grinch cave is loaded with gadgets and trinkets, offering plenty of opportunity to fill the soundfield.
The front soundstage is wide, capturing countless movements to the side, including objects thrown. The town of Whoville is loaded with activity as the citizens bumble about purchasing gifts. Bass is provided by the gas-powered sled the Grinch creates, its massive engines blasting fire that reverberates nicely on the low end. [xrr rating=4/5 label=Audio]
Extras are carried over from the DVD edition, although are now somewhat dated in their execution. A solo commentary from Ron Howard is first, followed by a promotional featurette, Spotlight on Location. Deleted scenes play in a single run through for almost 10 minutes. A brief selection of outtakes are marginally amusing.
Four featurettes offer the best content on the disc, including the creation of the Who villagers, the make-up process, set decoration, and special effects. In total, they combine to run about a half hour. A music video, D-Box support, trailer, and generic BD-Live support round the disc off. [xrr rating=3/5 label=Extras]
Full disclosure: This Blu-ray was provided to us by NBC Universal. This has not affected the editorial process. For more information on how we handle review material, please visit our about us page to learn more.
---