Director and writer Mike Binder's tale of a 9/11 widow is simply a stunning piece of dramatic cinema. Adam Sandler produces what amounts to his finest work, which should silence any and all of his critics. Aided by Don Cheadle, Reign Over Me is an intensely powerful drama that never lets up in the second half.
Cheadle and Sandler play former college roommates. After a chance meeting on the streets of New York, it's discovered that Sandler is suffering from a wealth of emotional problems following the 9/11 terrorist attacks in which his wife and three children died. Character development is initially off-putting, maybe even annoying. Sandler's constant fighting with his emotions make him a difficult character to latch onto. As the details pour in, it becomes clear.
The first hour of Reign Over Me is somewhat lopsided. Unnecessary comedy breaks the dramatic mold, and the film expects the audience to shift from tears to laughs in a matter of seconds. It's as if Binder is playing with the audience's head, or trying to make them experience what exactly is going on inside Sandler's. It's as frustrating for the audience as it is for the characters, but it's the one thing keeping this film from perfection.
Dialogue is well written and natural. Sandler's eventual emotional breakdown is compelling and shockingly went without any credit from any notable film organization. The performances here are nothing short of remarkable. Reign Over Me hits its audience hard, and the disaster that becomes the life of a 9/11 widower is heart-churning drama at its finest.
Once past some of the initial irritation with the excessive attempts at comedy, Reign Over Me does everything right. This is an emotional roller coaster that sticks with you, and it's a movie you may never want to see again for all for all of the right reasons. [xrr rating=4/5 label=Movie]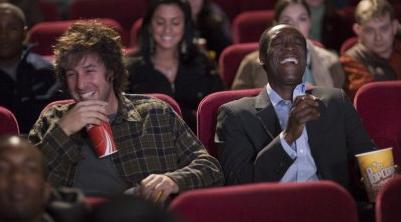 The drama transfers over beautifully on Blu-ray. Detail is phenomenal, ranking amongst some of the best live action transfers to date. Color is excellent, with high saturation that never bleeds. Black levels are perfectly set, and the white are maintained without being too hot. The only noticeable problem is noise, especially becoming excessive in darker sequences. It's distracting enough to take away from the scenes themselves. [xrr rating=4/5 label=Video]
New York should be far more immersive than this PCM 5.1 track indicates. This is an entirely front loaded track, whether on the streets in heavy traffic or inside a loud night club. Dialogue is always consistent and clear, even with small whispers. [xrr rating=3/5 label=Audio]
Extras are brief. Behind the Reign is a 17-minute piece in which Binder dissects the film from his personal experiences. Jam Session is a short extended scene, and A Still Reign is a collection of stills from the film. [xrr rating=1/5 label=Extras]
---