The Movie:
What needs to be said about the quintessential drunken frat party comedy other than "Toga?" Coming in at #36 on the AFI's 100 Years, 100 Laughs comedy list, John Landis scored with the 1978 classic Animal House, starring John Belushi in one of his most memorable roles as Bluto. A strong supporting cast including JohnVernon, Karen Allen, and Donald Sutherland carry the film through all of its memorable (and infamous) moments.
DVD History:
The film has found a home on DVD three times, and once on HD DVD. The first DVD release was early in the life of the format, the second in a "Double Secret Probation" edition, and the third in a thirtieth anniversary box set complete with a box designed around the Delta House. The HD DVD was released alongside the Double Secret Probation DVD.
Oddly, Universal chose to release the Delta House box on DVD after the HD DVD/Blu-ray war was long since over, and yet completely neglected the hi-def format.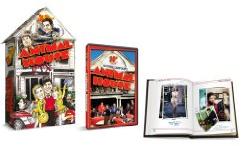 What to Expect on Blu-ray:
Probably not much. Animal House was filmed on a shoestring budget since the studio had no faith in it. The previous hi-def release (and the version on Universal HD) are flat and dull. Colors are muted, although the print used was in fine shape. Audio was as expected for a low budget comedy from the late '70s, and there's little doubt future Blu-ray release will correct these problems. Still, that doesn't mean the greatness of Animal House doesn't belong on home videos best format.
---